Easy to use Dashboards and Analytics
Intralox Aline Metrics module captures all your KPI information in one place and creates easy to use dashboards for your Operations, Maintenance and Safety groups. The graphs and charts can be configured for Corporate and Plant personnel to show the most relevant data and to compare performance between production lines and plants. You can also create performance reports that your customers can access. With online data, your metrics are always current.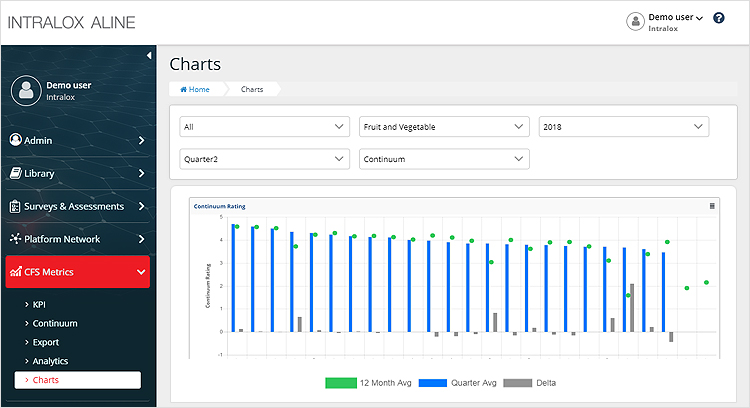 One-touch Line Layouts and Assessments
With the layouts and Assessment modules, use your tablet with the simple one-touch feature to map your entire production line and keep track of your equipment. With the extensive Equipment Library and product-specific line examples, you can capture detailed information of your facility. Assess the health of your equipment and plan your maintenance and operations schedule to meet line efficiencies and safety standards.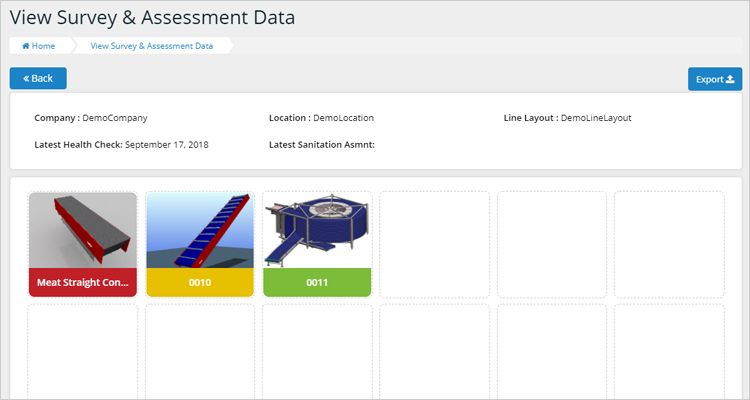 Seamless internal and external Collaboration
From your equipment purchase to the life cycle management of your production facility, your internal teams and your suppliers and partners are all on the same page – they know what is expected and when. The platform network is an easy and effective channel to collaborate and communicate, keeping track of action items and recording preventive and correction action taken. Connect your internal team and your suppliers by looking at the same information.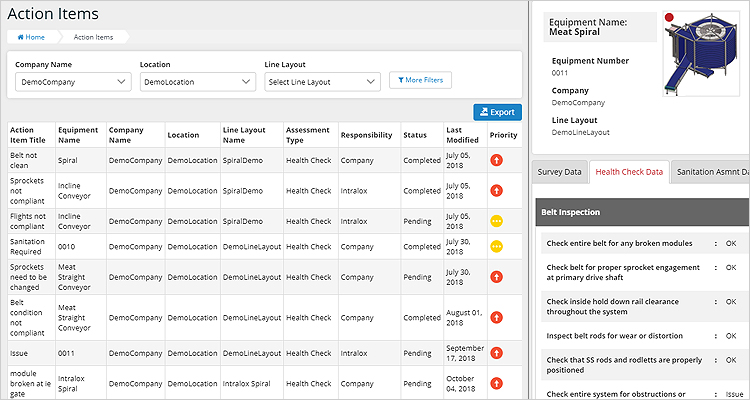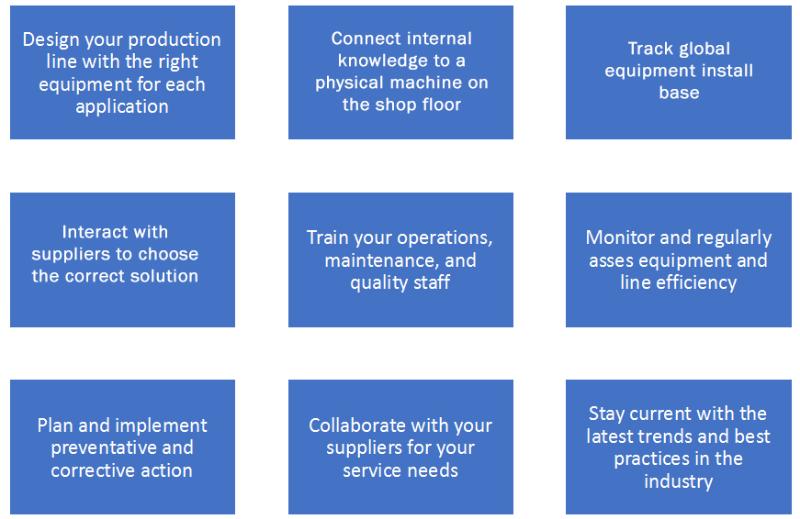 Always Online
Your equipment information is available at anytime from anywhere. Review action items, discuss project status, and track performance with a few simple clicks and screen touches.
Visual Capture
Each equipment in the library has an easily identifiable 3-D image. Attach videos and photos to your line assessments to document and show exact areas of improvement and corrective action.
Multi-device Access
Use your tablet to map your production line, come back to your desk to view the details. Scan a QR code using your phone and access maintenance and training documents.
Intuitive Collaboration
Create a layout and interact with your suppliers. The platform allows your entire supply chain to seamlessly collaborate on your initiatives.
Domain Knowledge
The entire application provides you information specifically curated to your industry and your production process. Technical design guidelines, case studies, training documents, supplier catalogs are all in one window.
Continuous Overview
Monitor your KPIs and Metrics and stay on top of your performance. The dashboards are always up-to-date and show you and your staff the current status of your production facility.